Ayrton Senna was a driver like no other. His tragic death has further romanticized the legend of this breath-taking Brazilian racing driver. Everyone remembers with ease the sheer genius of his driving, his insatiable passion and how great he was at his sport. His car and driving is something that would have been incredible to use Vehicle Tracking on to see in front of your eyes just how fast and far he drove during his lifetime. Tracking such as those found at www.vehicle-accessories.net/vehicle-tracking/ can help in a variety of ways including tracing where your cars travel during any given time period.
However, it's easy to get whipped up in the hype but forget the cold hard facts of what made Ayrton Senna a titan of F1 racing.
Here are some of those Ayrton Senna facts:
Senna was World champion no less than three times
He achieved 161 Grand Prix starts
Senna had 41 wins and 65 pole positions
His very first race was the 1984 Brazilian Grand Prix, followed by his first race win the following year at the Portuguese Grand Prix. His last race win occurred in 1993 at the Australian Grand Prix and his life was dramatically cut short in an accident that occurred at the San Marino Grand Prix in 1994.
Senna displayed an emotion, passion, and dedication to his craft more so probably than any other driver in history. He gave his all in the pursuit of F1 success. He was a strong character, with amazing raw talent and almost otherworldly determination.
He was also blessed with good looks, bags of charisma, a quietly spoken eloquence and deep spiritual beliefs that many could identify with. All these qualities gave him hero status in his home country and levels of admiration across the world that are seldom seen, then or now.
However, with all genius comes a little touch of danger. He was so determined, so sure of his talent that he sometimes made choices and carried out actions that were risky, putting his own life and that of his fellow drivers in extreme danger.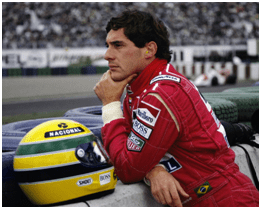 One of his biggest rivals at the time was Alain Prost, who once remarked that because of his deep faith and belief in God, Senna believed he couldn't kill himself and this, Prost felt was highly dangerous.
Although, it does seem that Senna had a good grasp of the danger he found himself in, saying once that 'you are enormously fragile. Because in a split second, it's gone'. He understood that his desire to go faster and be the best also put him within a whisker of death, allowing him the chance to get to know himself deeper.
There have not been many racing drivers who have so eloquently expressed the philosophical demands of racing, as well as the mental and physical. Sadly, he met his end the way he imagined he might but not before testing the limits of human capability. Many recognized the amazing talent that he had as a racing driver during his life, but it was his death that showed the world just what an incredibly extraordinary person Ayrton Senna truly was.